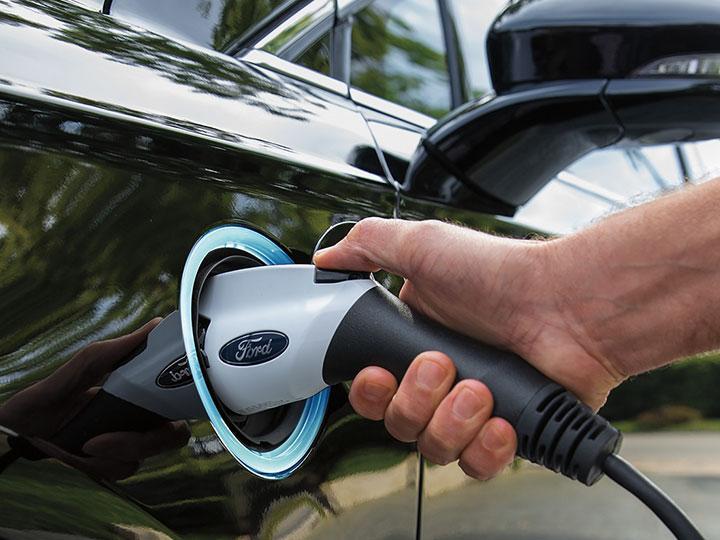 Whether it's the rising cost of gas or the desire for a smaller carbon footprint, many drivers are considering the transition into a hybrid or electric vehicle. With that in mind, MSA Ford Sales is proud to present Ford's full range of hybrid and electric vehicles. From fuel-efficient hybrid models, to fully electric vehicles, we offer a range of options for the driver who wants to go further, for less. Learn more about our hybrid and electric vehicles below, or feel free to drop by our Fraser Valley Automall location, today.
Electric and Hybrid Engines – BEV vs. HEV vs. PHEV
Electric Vehicles are here at MSA Ford! There are three different engine's to choose from to electrify your next vehicle!
Battery Electric Vehicles (BEV) are powered completely by a rechargeable battery. Battery Electric Vehicles produce zero emissions, require no oil changes, and do not need gas fill-ups. Just plug in, recharge, and go! Battery Electric Vehicles can travel an estimated of 475 km before recharging, and recharging is quick and easily accessible.
Hybrid Electric (HEV) uses both a gas engine and an electric motor. Hybrid Electric vehicles use regenerative braking and the gas engine to recharge the battery pack. Hybrid Electric Vehicles are extremely convenient as the Hybrid engine can travel an estimated 950km between fill ups, and do not require charging. Upwards of $950 in average annual fuel costs can be saved by driving a HEV!
Plug-In Hybrid Electric (PHEV) are powered by both battery and a gas engine. They utilize your battery first, and switch to gas once the battery is depleted. Recharging is convenient and can be done in less than three hours. Lower your energy consumption with a Plug-In Hybrid vehicle!
MSA Ford is your premier retailer for electric vehicles, servicing the Fraser Valley area including Abbotsford, Mission, Langley, Chilliwack, and Surrey, BC. The BC Government is offering up to $3000 on certain Electric Vehicle purchases.

2022 Ford F-150 Lightning
F-Series has been Canada's best-selling line of pickup trucks for 55 years for a reason. And now, it's going electric with the 2022 Ford F-150 Lightning. It offers all the brawn and capability you need coupled with an electric powertrain that can help you work smarter and in more places. But it's not all muscle. It also offers high-level technologies and features that keep you connected and help you work smarter. Making you more productive than ever before. So, welcome to the future of business. To borrow from an old phrase, uptime is money. That's why we've equipped the F-150 Lightning with some impressive available range. Including an available extended-range battery that offers a targeted EPA-estimated range of 480 km. MSRP starting at $68,000 for the well-equipped mid-series (XLT), and up to around $110,000.
2022 Ford E-Transit
The best-selling commercial van brand in the U.S. is about to lead business into the future. Introducing the all-new, U.S.-assembled Ford E-Transit. The only electric work van that has the backing of the Ford Motor Company. That means an entire ecosystem of products, software and charging solutions that will allow you to seamlessly transition to the future of business. By leveraging more than 30 million miles of Ford Telematics™ data, we learned that the average daily range for commercial vans in the U.S. is 74 miles. Of course we also understand that there are days when those distances are higher, and recognize the need to adjust for factors such as cold weather. We consequently designed E-Transit with a targeted 126 miles of range (Cargo Van low-roof models). Our goal is to be a one-stop shop for our commercial vehicle customers. And we'll have more announcements in the future on additional derivatives that offer more capability and range.
2021 Escape Plug-In Hybrid
The 2.5L I-4 Atkinson-cycle powertrain features an electronically controlled continuously variable transmission (eCVT) and an 96 kW electric motor. Also, the Escape Hybrid packages its liquid-cooled lithium-ion battery smartly outside of the vehicle below the floor of the 2nd-row seats rather than occupying a significant portion of the cargo area. The briefcase-shaped battery in the standard hybrid measures less than one-third the size of the old Escape Hybrid battery. Standard on all Escape Hybrid and plug-In hybrid models.
2021 Ford Escape Titanium Hybrid
The Ford Escape is now offered in a Hybrid Electric model! The Escape Titanium Hybrid comes standard with a 2.5L iVCT Engine coupled with electronically controlled continuously variable transmission (eCVT). This SUV is paired with intelligent technology to make for an exceptional driving experience. Starting at only $33,649, come to MSA Ford to see the 2020 Ford Escape Titanium Hybrid.
2021 Ford Explorer Hybrid
The 2021 Ford Explorer Limited Hybrid (HEV) is here, starting at only $49,799! This vehicle has all the features you know and love about the Ford Explorer, all paired with a Hybrid Engine to take your driving experience to the next level. The 2021 Explorer Limited Hybrid comes with 2132 L of cargo space, exceptional power, and loads of innovative technology.
2021 Ford Mach-E All Electric
The highly anticipated Full-Electric Ford Mustang Mach-E is finally here! The 2021 Ford Mach-E comes in a variety of trim levels, including the Select, Premium, California Route 1, GT Performance Edition, and for a limited time the Premium First Edition. You can achieve an estimated 475 km range, all while producing zero emissions. For a starting price of $50,945 the Mach-E can be ordered and customized to your preference. Quick charging and quick acceleration, and state-of-the-art technology. The Mach-E will exceed all expectations!
2021 Ford F-150 PowerBoost – Hybrid
Brand new for 2021, Ford is offering everyone's favourite pick-up truck in an HEV model! Customize your new 2021 F-150 to add the optional 3.5L PowerBoost Full Hybrid V6 Engine and experience the luxury of driving a Hybrid Electric vehicle. You can upgrade any of the 2021 F-150's six trim levels to include this new engine. Achieve an impressive 430 horsepower, 570 lb-ft of torque, and 12,700 lbs of towing capability with the PowerBoost Engine!